(if you are viewing this from your email subscription, please visit my blog on the actual website to see the video and links properly)
Today I went for a walk with Ginger. We ventured forth out into the wet lanes and fields, the mud sucking at our feet, water swirling as we waded. Not all my land is wet mind you, but this time of year it certainly is in some areas.  I start my post off today with my drawings of the little snail I met while out walking, because I knew you'd be curious to see him.
I did these studies actually back at my studio while looking at him under a magnifying glass. I did some while in the field (you'll see below) but it was so small it was hard to really get a good look at him while I sat on a log! So he came home for a visit. I first lightly sketched him with pencil then drew with a permanent ink pen and then watercolor on that. After I drew the swirly curly border I drew over it with one watercolor pencil then just dragged a wet waterbrush over all of it to soften it and make the color bleed out a bit.
Now back to our walk.
This is "Secret Circle Lane", as wet as it always is in springtime; (click it for high res. view in my shop) how pretty reflecting the sky like that! Ginger and I crept quietly along through this water because I heard an interesting call from some kind of frog along with the zillions of peepers that were singing.
Here's a short video clip I shot while standing in the water,  just to let you hear the sound of the Peepers calling.
Ah yes, the trusty boots! Can't go anywhere without these mud boots or "Wellies". Well these boots weren't made for "walkin" they were made for "sloshin"!! I did see some interesting little critters in the water before our feet disturbed it, some snails and a few water beetles.
Oh, and there's me…had to show you my favorite hat of all time and my Dad's hunting coat! The hat I bought in England at a farm supply shop, where they sell the expensive horsey equipment and clothes. Well it WAS expensive too, BUT well worth ever penny! It's waterproof, lined for warmth, has a flap that drops down over your ears and makes it fit your head like a helmet and has an elastic cord that goes under your chin for high winds. When the wind blew hard on the high hills of Northumberland, my wonderful hat stayed put!! The other nifty thing is it has a little button on the brim you click and you get two settings of led lights! High power beams!! I'm telling you we've used it to find our way on paths past dusk and it's great for visiting old castle ruins because you can point your beam into dark places that you wouldn't have seen before. I should get paid money to promote this hat!
And the wonderful old Woolrich hunting coat my dad gave me so I love it. He used to put it on when going out hunting, I still remember seeing him in the kitchen with the pants on with bright red suspenders and laughing playing like he was Santa! It is covered with pockets and has a special pocket at the back for carrying your 'game' home in. I have been known to carry sketchbooks there and always keep a spare kitchen size garbage bag for sitting on wet ground.
I told you before that we planted flowers in "Aspen Hall", here's two little crocuses I wanted to sketch.  Click to see a note card of it where you can zoom in and see it bigger.
I love the close up pictures of this pretty little golden snail. I spotted him on the ground amongst the leaf litter, but in the sun he glistened like gold. I took my tiny Olympus camera on the macro setting and shot this picture through a close up part of my magnifying glass! It really works at getting a little closer. Click on the pictures to view note cards that you can view close up.
Here's another shot of him, I love the form of the shell twisting up like that.
Now this picture is important because it shows you how tiny he was and when you need reading glasses to see things better, it doesn't help. The other thing that made it difficult to draw him in the field was sitting on one little log made my back hurt terribly so I was not comfortable. I wrote my notes and did some little sketches anyways.
Another great shot, I love the patterns in the shell that the sunlight catches. And notice the subtle color that runs up through those eye stalks? I notice how well it matches the dead stick he was crawling on.
Here's my actual journal page from my time sitting in "Aspen Hall", go ahead and click it to read it.
Now I had a little more fun with the snail studies I did by using some metallic watercolor paint on them. I took some pictures of the snail paintings tipped at an angle to catch the sun and really show the metallic watercolor paint I added on top. It was a lot of fun using it and really made it look like the snail did, it sparkled in the sun!
And one more shot showing the glitter in the full sun.
I hope you enjoyed our walk today and you didn't even have to get your feet wet! 😉 Don't forget to visit my SHOP by clicking the pictures above to see note cards of the little golden snail or the landscape photos in this post.
Here's a note card using the watercolor studies: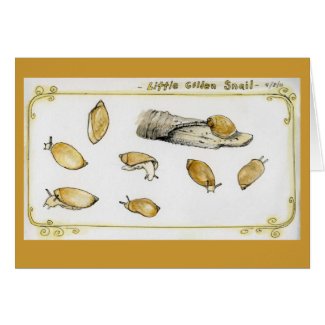 Speaking of snails I'm honored to say there's a wonderful blog written by two talented women one of which was inspired by my posts about the snail I found and did studies of while I was in England! Have a look here: "The Dao of Doing"