Hello everyone, I've been a busy bee! Working not only on some watercolors while out on my walks, but also putting together some Needle Felting classes! I've had so much fun preparing by making lots of snowmen, gnomes, flat felted picture ornaments and floaty soft Fairies and Angels. It really is so much fun to work with all the colors and different types of wool I've collected.
Here is the poster we designed for my two classes in December.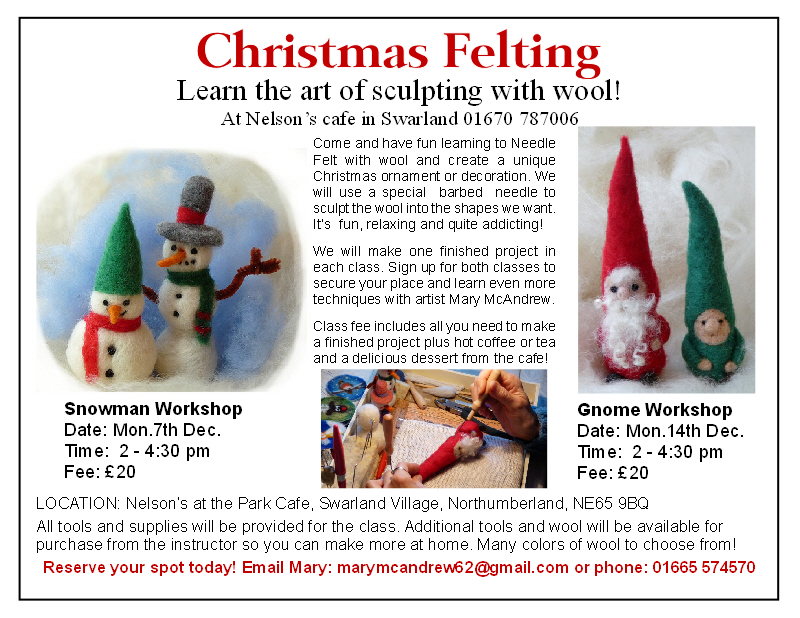 Snowman Workshop: Monday 7th December, 2 pm-4:30 pm £20
Gnome Workshop: Monday 14th December, 2 pm-4:30 pm £20
Both will be taking place at Nelson's at the Park cafe in Swarland Village, Northumberland. It's a great little community cafe with the most excellent desserts and I've been hearing such good things about their food from the locals! I'm excited because our class will include a hot coffee or tea and a dessert specially prepared for us! YUM. I already have a few students signed up so please don't wait to send me an email if you want to join us. When you email (marymcandrew62 at gmail.com) I'll send you a Paypal invoice and you can pay with paypal or credit card.
We'll learn about the qualities of different wools and how to work with them. I'll bring some fun needle felted projects I've made to show you what else you can do with wool and spark your creativity. I'll also bring along a very big selection of all colors of wool for students who want to purchase some to take home.
CHRISTMAS FAIR
On Saturday (Nov.21) I took part in the Christmas Fair at Gallery 45 in Felton, Northumberland. I decided to do it only two days before the event so I kept it simple. I rented a small table just so I could put out some note cards, small prints of my artwork and a good selection of felted peices. It was a lot of fun meeting local people and talking about my work and a great way to talk about my classes coming up in December.
I thnk the Sock Monkey was trying to serenade the angel when I wasn't looking, is she throwing her arms up to cover her ears? We'll never know!
Email me (marymcandrew62 at gmail.com) if you have a small group in Northumberland that would like to learn how to needle felt and we'll see if we can arrange something. So many fun things to create!