(Some of the images go to my shop where you can hover and see enlarged details)
Even though I did this sketch back in December, while I was in Northumberland England, I guess it's appropriate now seeing as there's been a return of snow there! This was their first snow of the winter and it fell quite heavy for a time, coating everything with that heavy kind of silent snow. I had a cold but peaceful walk up the lane and stopped at this view with the trees I always like looking at.  I did the sketch while standing to the side of the road using a black wax crayola crayon. The snow was falling on my paper as I drew and it made it hard to draw, not to mention drawing while wearing my fingerless mittens. It was later that I added some touches of watercolor.
I love the way this ivy covered gate looks and would love to do a painting of it. Problem is it's someone's front gate and with the house being just inside, they may think I'm being rude standing there staring at it.
This is one of my favorite views as the lane curves into the distance.  You can see this is the view I stood and sketched in my drawing.
The trees stand sentinel as they've done for hundred's of years. Many of the trees you see along a lane are just overgrown from old hedges that weren't kept trimmed down.
I love how the trees look in the back of the field and how peaceful the sheep were, just trying to conserve energy I guess. These ewes are probably getting fat with lambs in them now…can't wait to see the little ones in spring!
I like seeing the leaves in winter; these were interesting with the red spots. Sorry the picture isn't brighter but the day was so grey!
 This is an old farm shed I always look at along the lane, it's so old it's actually fallen off it's foundation and the sides are collapsed. I don't usually want to paint old barns as some people do, but this with the trees, shrubs and grass with their colors in this shot, really attract me. I can see it as an ink sketch perhaps or chalk.
I hope you enjoyed coming on this little snowy walk with me. More sketches and photos from England coming soon.
Click the picture below to see a glossy note card I created in my shop for Christmas! I even wrote a verse for the inside!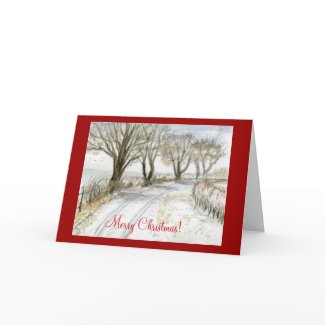 Glossy Note Card with customizable text