It's been weeks since I've been out in the field sketching, and now that I've been out I feel renewed! I guess that's how we should feel in Spring. I put on my Wellies or "Mud Boots" grabbed my sketch kit and camera and set out. Come with me and I'll show you my walk with sketches and photos! (Please click on pictures to view clearer.)
The first lane I walk in follows the pasture so it's always been called "Pasture Lane". No animals in the pasture now but still lots of wild things to look at. This lane has lots of nice dried rushes and sedges in it; I love this color, especially with the blue sky. It won't be long I'll be spotting all kinds of Nursery Web Spiders and underwater little nymphs and creatures.
This is on "Long Lane", looking towards "Aspen Hall" and it's a natural archway of branches that's been forming the past few years. I keep breaking branches when I go under it to keep it a bit under control! I've done sketches and paintings of it before, and not too long ago photographed it covered with snow! But as I was standing here I decided to go up "Memory Lane" to my left. This leads me to "Oak Lane", one of my favorites, where I thought I'd check things out.
Just at this intersection the woods are quite wet and I always see dead trees with lots of woodpecker holes. This one looks like it's been freshly pecked at.
I ended up in "Oak Lane" my favorite place on my property where the oaks are huge and tall, standing for many many generations. I made a little place to sit right up next to the tree at it's base, by spreading my trusty garbage bag out, first checking for pokey sticks and bits. There I sat, ate a snack and enjoyed the peace, then did a small sketch of the grapevines growing about me. Hmm…funny but that seems sort of rhymy to me…lets see:
"Here I Sit"   Before I sat down Upon leafy ground I gave the spot a good scour Where I'd while away the hour.   There were pokey sticks And hard little bits I had to clear before I sat, So I could sit and have my snack.   Well, now here I sit With favorite sketchkit Having a think and a good look, At what will go in my sketchbook.   by Mary McAndrew
Well that was fun! I just made that up!
I put my sketchbook on my knees and decided to draw the big grapevine branch hanging near me…that's it by my leg.
There's a close up of my watercolor palette I take when I go afield, it's getting pretty stained now and I'll have to look for a new one. Some of my colors I have in temporary little plastic containers, just to see if I want to add them to the kit.
This is one of my waterbrushes, it's actually not one of the more expensive ones but it worked great for me today. It has good juicy water-flow and the tip stayed sharp for details. I also wrote words about the grapevine on the page that I'll type out below:
"The grapevine grows greatly reaching upwards with twisted limb. It's rough bark twisting tightly tense along it's sinuous length. Great muscle of wooden rope reaching right up to entangle and strangle it's host. And gentle innocent long trailing tendrils Hang down from above, stirring in the breeze to tease." by Mary McAndrew
As I wrote the words I let my mind think poetically and freely. I knew later I'd like to write a poem from some of the words I found because I liked the way they sounded together. Here's the finished sketch below and then the new poem follows:
Here's my little poem I wrote just now while looking back at the words:
"The Grapevine"   Grapevine growing greatly Reaching upwards with twisted limb, Rough bark twisting tightly Tense, sinuous and slim.   Great muscle of wooden rope Reaching right up to entangle, Clinging to unwilling host As you wind about to strangle.   Gentle, innocent tendrils trail Stirring in the breeze. Stronger than you look so frail, Climbing any tree you please.   by Mary McAndrew
The watercolor above I did half in the field and half at home.  On my way back I stood in an field we call "The Maze", because of all the intertwined paths in it, all cut by me years ago using a tractor and brush hog. It was very difficult to paint the stems while standing there in front of them, tired, cold…but I loved the colors so much and wanted to try and 'study' it. When I got back I looked at photos I took using my computer, and did more detail and study. I found myself using Dioxizine Violet mixed with Alizarin Crimson for most of the purpley colors; mixing it with Sepia made a nice shadow color. I had to use a bit of Cadmium Red to brighten up the color here and there. You can see my color notes on the left side there. By the way, I can't really recall what the name of the bushes are, I think "Red Pannacled…something or other! Sorry, I packed all my field guides up, I'll see if I can look for them.
This is the old stick bridge in "Aspen Hall", I add to it every spring and summer, tossing on dead branches to go over the ditch. "Aspen Hall" is located along "Long Lane", so I've done a circle and am coming back towards home now.
This is a very old car frame just sitting by the pasture, it's been there ages! I think the former owner of the farm told me it was Model T or Model A …wooden spokes! How cool!
I'll leave you with one more picture from my spring walk…
I didn't want you to miss my favorite picture! I love taking pictures of my boots when I go hiking, wherever I am. In my shop I have pictures of my boots in England too! Go here to my shop then scroll down left side column and click "Hiking – Walking + Boots"
Hope you enjoyed our ramble!
Click on the pictures below to see my photos as note cards, it has a nice ZOOM feature that's lets you look closely.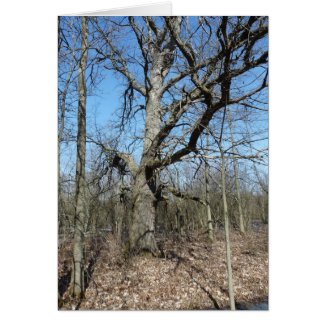 "Great Old Oak Tree" glossy note cards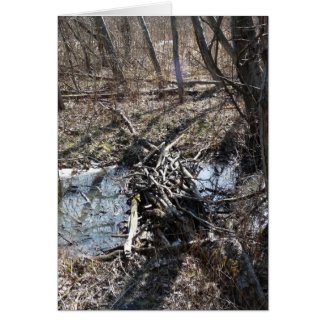 "The Old Stick Bridge" glossy note cards
"Old Wheel" glossy note cards