(please click to see enlarged and clearer)
The land is starting to thaw at Long Lane Farm. The Robins have returned along with many other birds so I went out to look for signs of spring. It was very quiet except for occasional Chickadee's following me or a Blue Jay calling, some Canadian Geese flying over. I made it just up the lane a little and decided to sit and do this sketch.
I carried a small camp stool over my shoulder so I sat on that and put my sketchbook on my lap along with my watercolor pan.  I used two waterbrushes and a permanent ink pen to draw it first. I found it a bit difficult to paint the grasses right in front of me, that were all matted and crisscrossed on the ground, sooo much detail! You can see I didn't get crazy into detail, mostly just looking for the darks and lights of the scene, showing the water around the rushes and the dry color of grasses in the lane.  I didn't fuss over it too long because my back hurt like a 'son of a gun'! Darn back of mine, I think I may have been better to just stand like I usually do.
PS. A note to those who follow my blog, I'm so glad you keep coming back to read and see what I'm up to. I've not posted as much lately only because I am finally concentrating seriously on illustrating all the poems and stories I've written over the past years. I'll try to share a bit as I can, but don't want to let the cat out of the bag too soon! We'll see what I end up with and I'll keep you posted!
I made some cards with my sketch, check them out by clicking pics below:
Glossy Note Cards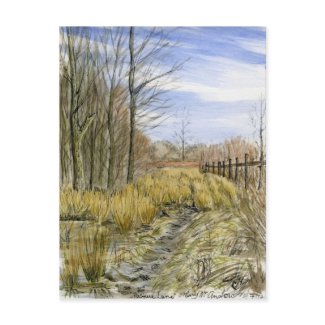 Glossy Post Cards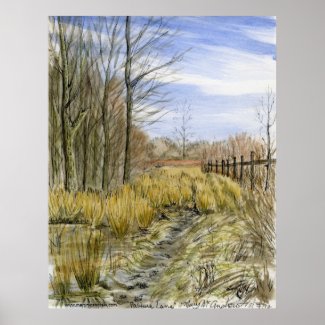 Poster/Prints in many sizes and papers
(you can change the size smaller and the price will go down accordingly)